Thank you to everyone for a successful 2022 Conference in Margaritaville! 
Save the date for 2023. We'll be back on our regular Spring conference rotation in Austin for Conference and Capitol Day.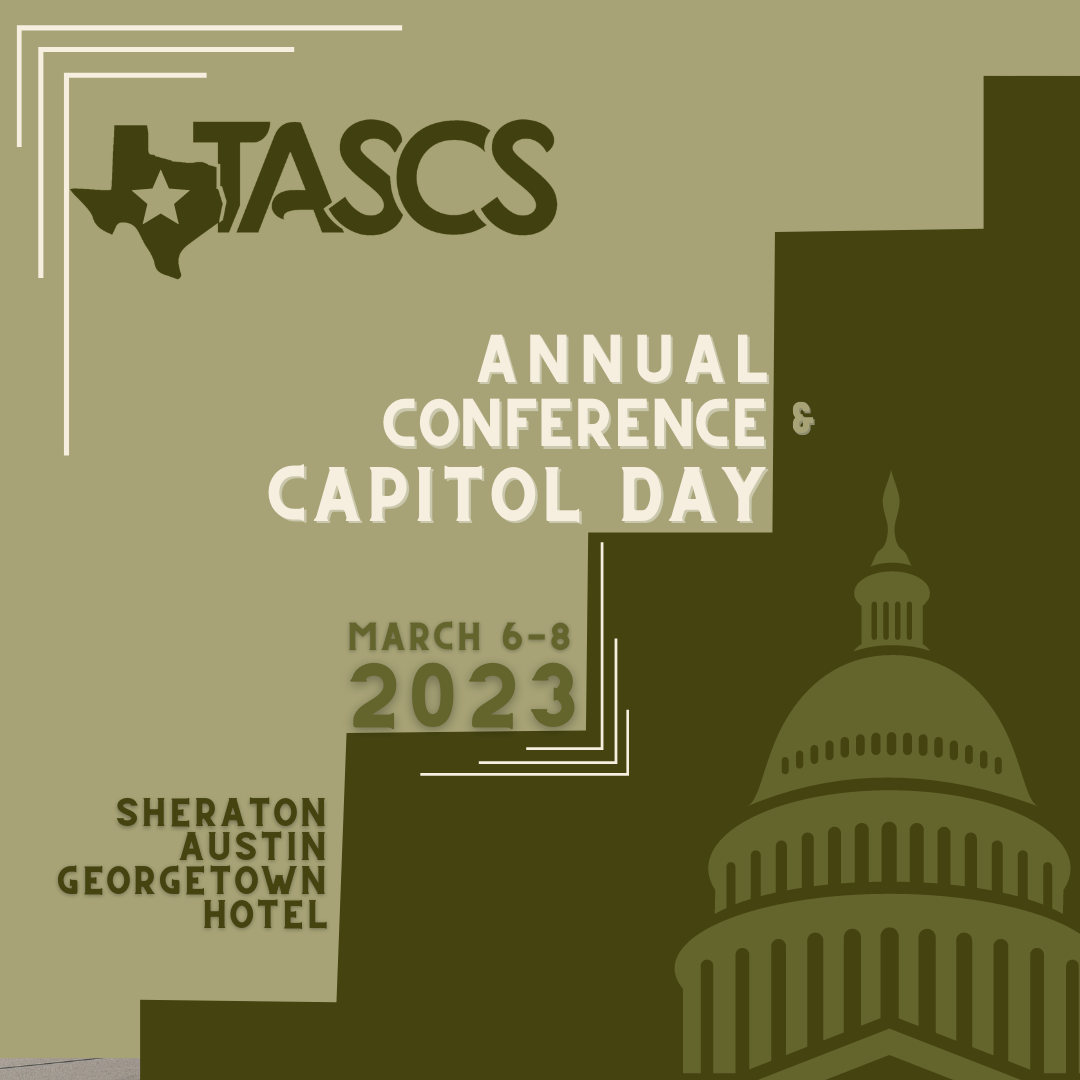 ---
  The annual conference for the Texas Ambulatory Surgery Center Society expects to bring together more than 150 ambulatory surgery center attendees and trusted vendors. The meeting features opportunities to earn continuing education credits, learn best practices from colleagues and experts, get up-to-date on accreditations and regulations, learn the trends in infection control and professionally develop all leaders in Texas ASCs.
TASCS Conference Testimonials
"Topics were relevant and I received practical information"
     
"I learned different topics on subjects that are pertinent to running an effective ambulatory center." 
     
"The best thing about the conference was meeting and conversing with other ASC leaders, vendors were exceptionally informative and helpful. "
TASCS Members get up to 3 complimentary attendees per ASC & discounted exhibit pricing
ASCs:
Click the leaf above to register!
Vendors:
 Click the Exhibitor & Sponsor Leaf above to register! Be sure to visit the Exhibitor page for more information.

Thank you to our Sponsors
This program will be approved for AEUs, ICPs and CNEs.
This program is approved for up to 15.0 hours of AEUs and up to 1.0 hours of IPCHs by BASC provider # 6629.

This program is approved by the California Board of Registered Nurses, Provider #17435. (Progressive Surgical Solutions, a division of BSM consulting for 15 CE Contact Hours.
Margaritaville Lake Resort, Lake Conroe, 600 Margaritaville, Park Way, Montgomery, TX 77356. 
The Conference hotel is currently SOLD OUT. 
The new TownePlace Suites by Marriott Houston Conroe is just 15 minutes down the road from the resort and wonderful accommodations for you. 
Click here to book your group rate for TASCS Annual Conference
Last Day to Book: Friday, August 12, 2022
Hotel rate $119 per night plus tax
Please NOTE! Due to high demands at this resort for the weekends, the group rate is not available for Friday or Saturday before the Conference. You can arrive as early as Sunday at the conference rate and stay Wednesday and Thursday nights after. 
To secure guest rooms the weekend before, see their website for prevailing rates. Let us know if you book these nights and we'll work with the hotel to ensure you do not have to change guest rooms. 
TASCS Guests can enjoy a 10% discount on a la carte spa services in the St. Somewhere Spa!
Put on your flip flops, plan your escape, and set your coordinates to fun and relaxation — Margaritaville Lake Resort, Lake Conroe | Houston brings the spirit of the islands to Lake Conroe, Texas. This Jimmy Buffett inspired resort rests on 186 lakefront acres on the shores of beautiful Lake Conroe where visitors can unwind in a luxury suite or waterfront cottage. Visitors may also enjoy five signature Margaritaville restaurants and bars, a rejuvenating spa escape, thrilling watercraft rentals, 3-acre water park, a friendly resort golf course, state-of-the-art event space, and more. This ideal getaway is only an hour north of Houston, and about three hours from the major hubs of Austin, Dallas, and San Antonio. 
IAH George Bush Intercontinental Airport is located 50 miles from the resort.
 

Hotel Resort Fee includes: 

• High-speed WIFI in guest suites and public spaces
• Self-parking
• Access to the Coconut Telegraph Self-Service Business Center
• In-room coffee and tea service
• Complimentary intra-resort transportation
• Two complimentary bottles of water in your suite
• Unlimited local telephone calls
• Pool towel service
• Unlimited access to the following resort amenities:

o Jolly Mon Water Park with multiple pools, splash pad, waterslides, lazy river, and hot tub
o Fins Up! Fitness Center with modern free weights and cardio machines, CrossFit and Pilates equipment, three studio rooms, racquetball courts, and indoor cycling
o Parrot Island Mini Golf
o Private beach
o Fins City Arcade, charges apply for games
o Tennis, pickleball, and multi-sport courts

TASCS offers these guidelines outlining the various steps to be implemented so as to provide a healthy and safe environment during the 2022 Annual Conference. Following these guidelines is the responsibility of all Attendees, Staff and Exhibitors while at the event. 
BEFORE LEAVING HOME: 
    • Follow relevant guidance provided by the Center for Disease Control (CDC), the World Health Organization (WHO), or your local health authority. 
    • Adhere to government-issued travel restrictions and guidance issued by the region you will be traveling to and the region you are traveling from (including compliance required by airlines or other travel services).
    • Evaluate your health and that of people you are in close contact with.
    • Stay home if you feel sick. 
ON-SITE DURING THE EVENT: 
• Follow guidance from local health authorities, for everyday preventive actions to help prevent the spread of respiratory viruses including:
o Washing hands often with soap and water for at least 20 seconds, or an alcohol-based sanitizer with at least 60% alcohol.
o Avoiding touching eyes, nose, and mouth with unwashed hands.
o Covering your nose and mouth when coughing or sneezing. Throw used tissues in the trash.
o Cleaning and disinfecting frequently touched objects and surfaces using a regular household cleaning spray or wipe.
• Agree to wear a mask or facial covering throughout the event if implemented by the hotel property, the county, the state or the staff
• Adhere to social distance protocols put in place by the event organizers or venue and respect others' personal space.
• Seek medical attention at any time if you feel unwell or are experiencing flu-like symptoms.
Where is the conference/hotel located?
How do I reserve my hotel room for the conference?
What days should I plan to be away from my center? 
There will be a PreConference for New Administrators on the afternoon of Monday August 22nd. If you plan to attend, coordinate travel the morning of the 22nd. 
If you are attending the remainder of the Conference, plan to travel Monday August 22nd to check into the hotel that evening. We'll kick the conference off the Morning of Tuesday, August 23rd and conclude around Noon on Wednesday, August 24th. 
How do I register? 
See the Registration section for more information.
ASCs It is recommended that you register everyone from your center at the same time.

Free Registrations for 2+ Operating Rooms ASC Facility TASCS Member
2 Free Registrations for 1 Operating Room ASC Facility 

TASCS Member

Additional Registrants (beyond the complementary #) = $295/person
Non-TASCS Members pay $295/person

Vendors & Partners- see the Exhibit page
What if I have specific questions?
If you need any additional information, or if we may be of assistance to you in any way, please contact us: Telephone: 512-535-2325 OR [email protected] 
What if I need to cancel my registration?